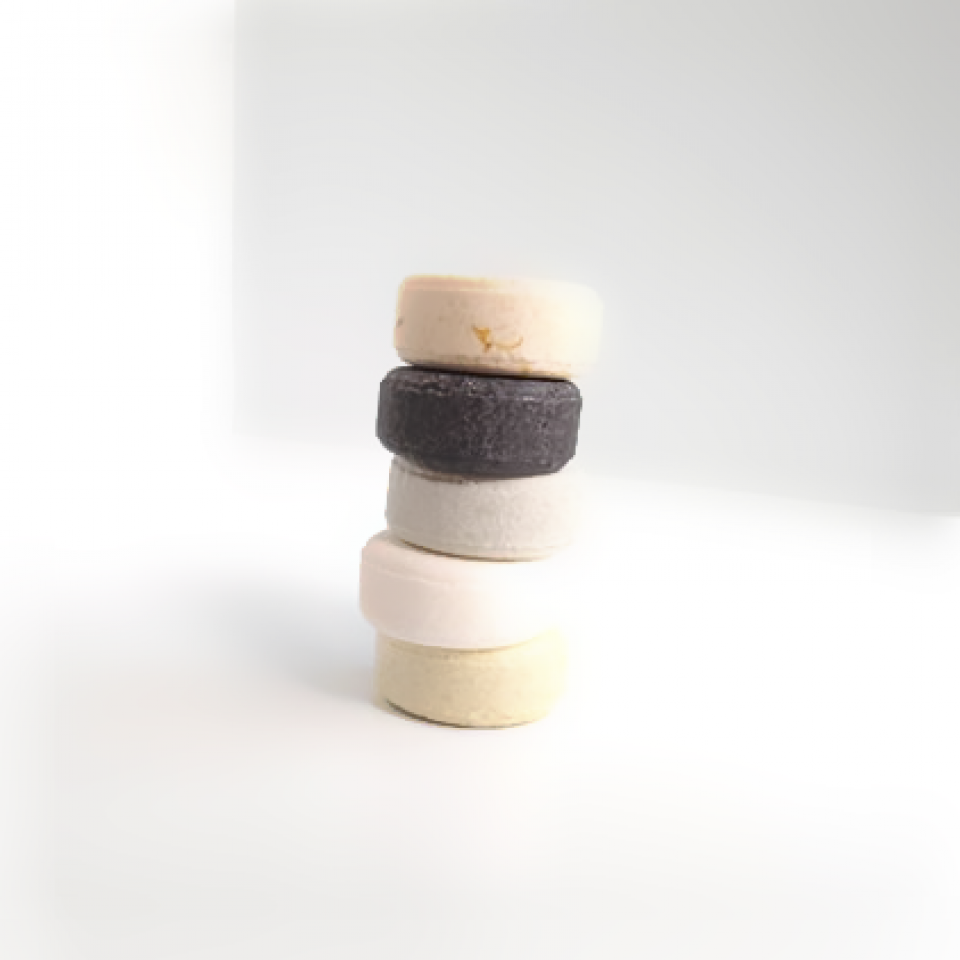 Ditch the plastic bottle! Our concentrated shampoo bars have a hair and scalp-friendly ph and are not only curly girl friendly but also safe for color-treated hair. Each bar will do the job of over three bottles of shampoo. Keep your bar dry between uses, and it will last a long, long time!
Need a travel tin for  your shampoo bar? We have the perfect size here:
HOW TO USE: Rub bar between wet palms to create lather. Massage lather into wet hair. Rinse hair thoroughly. Avoid eyes and mouth. Dry bar between uses.
SIZE: 2.6 OZ (76 G)
SCENT DESCRIPTIONS:
fig & vine: a sophisticated fragrance with the perfect blend of clean & earthy, sweet fig & green leaves

french lavender honey: the soft scent of french lavender with a hint of honey and musk

frostbite: the cool, fresh air of winter tingling with essential oils of peppermint and fir needle

honey lemon calendula: a soft, honey-toffee-musk with just the right touch of lemon (not vegan friendly, contains honey)

lemongrass: fresh, lemony, and just a little earthy

rose quartz: a feminine blend of bergamot, sandalwood, musk, rose and jasmine

rosemary sage: fresh rosemary and sage with hints of peppermint and lemon

summer blue: : a fresh floral fruity blend that with sandalwood, amber, and musk

sweet orange:: delicious fresh-squeezed orange with tangerine and bergamot
INGREDIENTS:
fig & vine: sodium cocoyl isethionate; glycine betaine, apple cider vinegar; agave nectar; purified water; fragrance; grapefruit, orange, lemon, and patchouli essential oils; panthenol, stearic acid, fig fruit

french lavender honey: sodium cocoyl isethionate; glycine betaine, apple cider vinegar; honey; purified water; fragrance, panthenol, stearic acid, manganese violet

frostbite: sodium cocoyl isethionate, glycine betaine, apple cider vinegar, agave nectar, purified water, peppermint essential oil, fir needle essential oil, panthenol, stearic acid, activated charcoal

honey lemon calendula: sodium cocoyl isethionate, glycine betaine, apple cider vinegar, honey, purified water, fragrance, lemon essential oil, panthenol, stearic acid, calendula flower, calendula extract

lemongrass: sodium cocoyl isethionate; glycine betaine, apple cider vinegar; honey; purified water; fragrance, panthenol, stearic acid, yellow iron oxide

rose quartz: sodium cocoyl isethionate; glycine betaine, apple cider vinegar; agave nectar; purified water; fragrance, panthenol, stearic acid, iron oxide

rosemary sage: sodium cocoyl isethionate, glycine betaine, apple cider vinegar, agave nectar, purified water, rosemary essential oil, sage essential oil, peppermint essential oil, lemon essential oil, panthenol, stearic acid, rosemary leaf

summer blue: sodium cocoyl isethionate; glycine betaine, apple cider vinegar; agave nectar; purified water; fragrance, panthenol, stearic acid, ultramarine blue

sweet orange: sodium cocoyl isethionate; glycine betaine, apple cider vinegar; honey; purified water; fragrance, panthenol, stearic acid, orange iron oxide